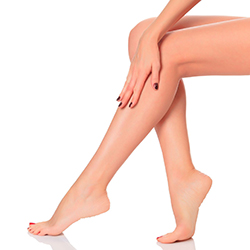 Sclerotherapy is a non-surgical office procedure that can treat most diseased surface veins.
Medication is injected into a vein using a small needle.
The medication irritates the vein walls so that they stick together and are gradually reabsorbed by the body.
Learn More
What will happen in the first consultation?
You will be asked questions regarding your past health, medication history and symptoms. An ultrasound exam may be performed and Dr. Hynscht will examine your legs. You will have an opportunity to discuss the treatment and ask any questions.
From your assessment, if Dr. Hynscht determines that you have a competent greater saphenofemoral junction or have have previous vein stripping or ligation, you may be recommended for sclerotherapy.
If the veins are small, flat "spider veins", then treatment can often begin on the first day.
If you are assessed to have reflux at the greater saphenofemoral junction, you will be referred to a vascular specialist for ligation or ultrasound guided ablation before they can return for treatment at the Simcoe Vein Clinic. With your permission, Dr. Hynscht will notify your family physician and complete the referral on your behalf.