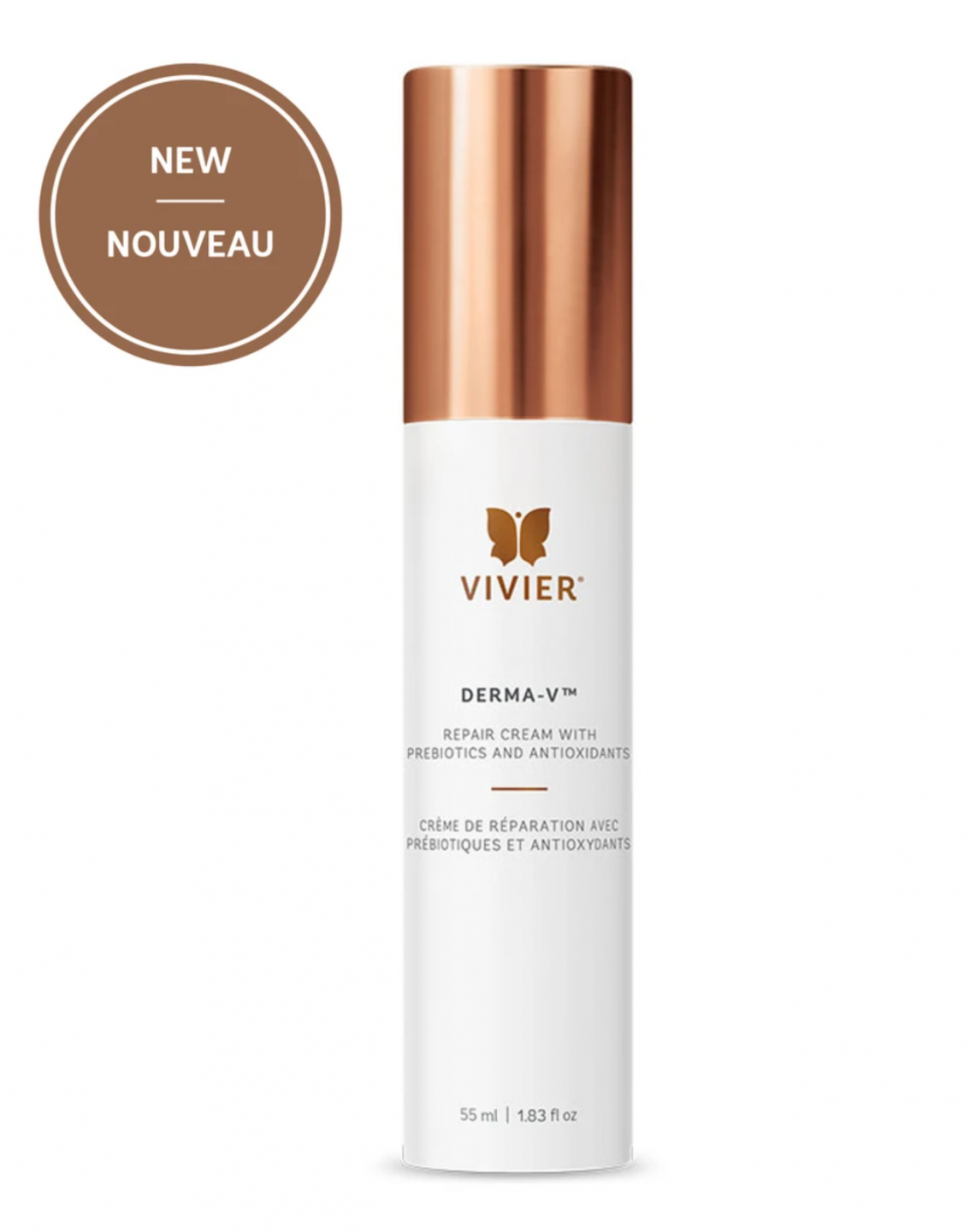 UNBALANCED MICROBIOME LEAVES SKIN WEAK
AND UNPROTECTED
Our skin contains trillions of bacteria that form our skin microbiome. Our skin microbiome protects the skin against infection, redness, inflammation and other skin diseases. Intrinsic aging, UV light, pollutants and other
external irritants cause a dramatic change in the balance of bacteria on our skin, resulting in:
various skin conditions such as atopic dermatitis1, psoriasis1, acne2 or other more serious skin diseases3
a weaker barrier function = loss in hydration
dry, rough and fragile skin
the appearance of fine lines and wrinkles
DERMA-VTM PROVIDES 5 SKIN REPAIRING INGREDIENTS TO RESTORE SKIN HEALTH
DERMA-VTM's formula, with carefully crafted and exclusive blend of 5 ingredients, works to restore hydration levels while you sleep for a healthier-looking skin. DERMA-VTM will help optimize the results of your patients skin care routines.
| SKIN REPAIRING INGREDIENTS | HOW THEY ARE KNOWN TO WORK | KNOWN HEALTH BENEFITS |
| --- | --- | --- |
| 1. PREBIOTICS | Balances skin's microbiome4 | Helps to repair and strengthen skin functions for an enhanced appearance |
| 2. ANTIOXIDANTS (RESERVATROL & THERMUS THEMPPHILLIS FERMENT) | Neutralizes free radicals5 | Protective and corrective anti-aging action for a younger-looking skin |
| 3. HYDRATION BOOSTERS (SODIUM HYALURONATE & ORIZA SATIVA, GLYCOSAMINOGLYCANS) | Binds 1,000 times its own weight in water6, 7 Regulates water content, elasticity, distribution of nutrients8 Decreases trans-epidermal water loss8 | Hydrates for smoother and more radiant skin |
| 4. TEPRENONE | Stimulates the creation of proteins known to protect cells9 Regulates water content, elasticity, distribution of nutrients8 Gives cells resilience and protection from inflammation, free radicals, and other damage9 | Healthier looking skin: Increases skin hydration Improves barrier integrity |
| 5. HYDROLYZED MYRTUS COMMUNIS LEAF EXTRACT | Increases cellular activity and limits glycation10 | Helps skin maintain its strength and elasticity, resulting in a more youthful appearance |
1. Zeeuwen PL, Klleerebezem M, Timmerman HM and Schalkwijk J. "Microbiome and Skin Diseases." Curr Opin Allergy Immunol , October 13, 2013. https://www.ncbi.nlm.nih.gov/pubmed/23974680
2. Lee YB, Byun EJ and Kim HS. "Potential Role of the Microbiome in Acne: A Comprehensive Review." J Clin Med, July 2019. https://www.ncbi.nlm.nih.gov/pubmed/31284694
3. Yu Y, Champer J, Beynet D, Kim J, Friedman AJ. "The Role of the Cutaneous Microbiome in Skin Cancer: Lessons Learned from the Gut." J Drugs Dermatol, May 2015. https://www.ncbi.nlm.nih.gov/pubmed/25942663
4. Data on File
5. Al-Niami, F and Yi Zhen Chiang, N. "Topical Vitamin C and the Skin: Mechanisms of Action and Clinical Applications." Journal of Clinical and Aesthetic Dermatology. July 2017. Volume 10. Number 7.
6. Michalun, M. Varinia, and Joseph C. DiNardo. Milady Skin Care and Cosmetic Ingredients Dictionary. 4th ed. Clifton Park, NY: Cengage Learning, 2015.
7. Papakonstantinou, Eleni, et al. "Hyaluronic Acid: A Key Molecule in Skin Aging." Dermato-Endocrinology, Landes Bioscience, 1 July 2012, www.ncbi.nlm.nih.gov/pmc/articles/PMC3583886/
8. McKee CM, Lowenstein CJ, Horton MR, Wu J, Bao C, Chin BY, et al. Hyaluronan fragments induce nitric-oxide synthase in murine macrophages through a nuclear factor kappaB-dependent mechanism. J Biol Chem 1997; 272:8013-8; PMID:9065473; http://dx.doi. org/10.1074/jbc.272.12.8013
9. Tytell M, Hooper PL. "Heat Shock Proteins: New Keys to the Development of Cytoprotective Therapies." April 2001. www.ncbi.nlm.nih.gov/pubmed/15992180 10. Data on File
For more information, download flyer